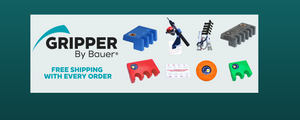 Ideal for Pool Cues
Great for Fishing
Perfect for Hunting
FREE SHIPPING on ALL Orders!
We ship Monday through Friday.
Our Gripper® Caddies go with you anywhere...
You can throw our Gripper® Caddies in a bag or cooler and head to the lake, the outdoors or a pub, where you can enjoy a game of pool, after a great day fishing or hunting. Our Gripper® Caddies are like no other in the industry -versatile and easy to use.
Gripper Caddy® by Bauer Enterprises
Gripper by Bauer® Caddy was originally designed in 1994 as a device to provide protection for billiard cues. Thousands have been sold around the world to amateurs and professionals alike. The unique design and patented formula (rubber like composition) provides for the most accepted concept of pool cue and rifle protection the industry has ever known.
Family owned and operated. Made in the USA.
You can also find our products on Amazon.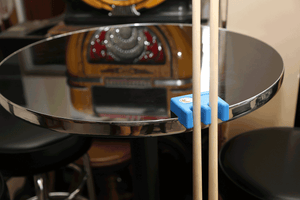 Lightweight
Versatile
Portable
DISCLAIMER and WEAPONS POLICY:
Before fishing or hunting any type of game or fowl, be sure to check your city, county and state guidelines.
The Gripper Caddy® is not to be used as a means to prevent accidental discharge of a firearm. All weapons must be unloaded prior to using Bauer's Gripper Caddy®.
gripperbybauer.com is the property of Bauer Enterprises, a subsidiary of Reiff Injection Molding Inc, based out of Spokane, Washington. Neither Bauer Enterprises and/or Reiff Injection Molding Inc, sell any type of weapons.
 This includes, but may not be limited to:
- Firearms (as defined by The Bureau of Alcohol, Tobacco, Firearms and Explosives (ATF)),
- Knives,
- Tasers, and/or
- Ammunition.
Sometimes we may sponsor or promote a giveaway that is being carried out and fulfilled by a third party, which may include a weapon (as defined above), but at no time will any of these products and/or items be available by direct sale or distribution from Bauer Enterprises and/or Reiff Injection Molding, Inc.
Bauer Enterprises nor Reiff Injection Molding, Inc. does not have a federal firearm license (FFL) from the ATF and is therefore not authorized to sell, receive, transfer, or ship firearms to businesses, organizations, non-profits, military personnel, or private citizens. When Bauer Enterprises and/or Reiff Injection Molding, Inc. sponsors or promotes a giveaway from or through a third party, that is properly licensed to sell the above listed items, that third party will manage the transaction and fulfillment of any of the above items.
Once in a while, Bauer Enterprises and/or Reiff Injection Molding, Inc. and its employees, contractors, or affiliates may refer to firearms, ammunition, or other dangerous or combustible regulated items in an effort to inform and educate their customers, or other users, but in no way does Bauer Enterprises and/or Reiff Injection Molding, Inc. sell or participate in any sales or transfer of these items.
For additional information about buying, selling, or transferring firearms or other weapons, we suggest that you contact local legal representation.
Despite every effort to accurately depict each color when photographed, actual colors may vary. In addition, subtle color differences and textures may not be fully appreciated on some systems due to differences in monitors, mobile devices and/or browsers.